US HUPO 2023: Enabling Technology for Biological Discovery
March 4 – 8, 2023 | Chicago, USA
At this year's US HUPO, MSAID will showcase CHIMERYS, an advanced search algorithm and AI-driven applications for proteomics.
POSTER PRESENTATIONS AT US HUPO
P8.04 – A unifying, spectrum-centric approach for the analysis of peptide tandem mass spectra

Mass spectrometry-based proteomics data is acquired using data dependent (DDA), data independent (DIA) or targeted acquisition (PRM) methods. Typically, the former is analyzed using spectrum-centric algorithms assuming that it generates non-chimeric spectra, while the latter two are analyzed in a peptide-centric fashion. However, peptide-centric approaches often struggle to control for the contribution of multiple peptides to the experimental fragment ion intensity. Recently, we showed that DDA, and by extension PRM, spectra can be substantially chimeric and introduced an approach that deconvolutes spectra irrespective of isolation window size, thereby substantially boosting the number of identified peptides for DDA. Here, we demonstrate that the same approach generalizes to any chimeric MS2 spectrum, unifying the analysis of DDA, DIA and PRM data.

Date: Tuesday, March 7th
Location: The Drake Hotel in Chicago
Session: Poster Session 2 – 10:00 AM - 11:30 AM
PANEL DISCUSSION AT US HUPO
LFQ Proteomics Battle Royale

Join us and other proteomics experts as we dive into the exciting world of label-free quantification using DDA, wide-window DDA and DIA.

Date: Sunday, March 5th
Location: The Drake Hotel in Chicago
Time: 4:30 PM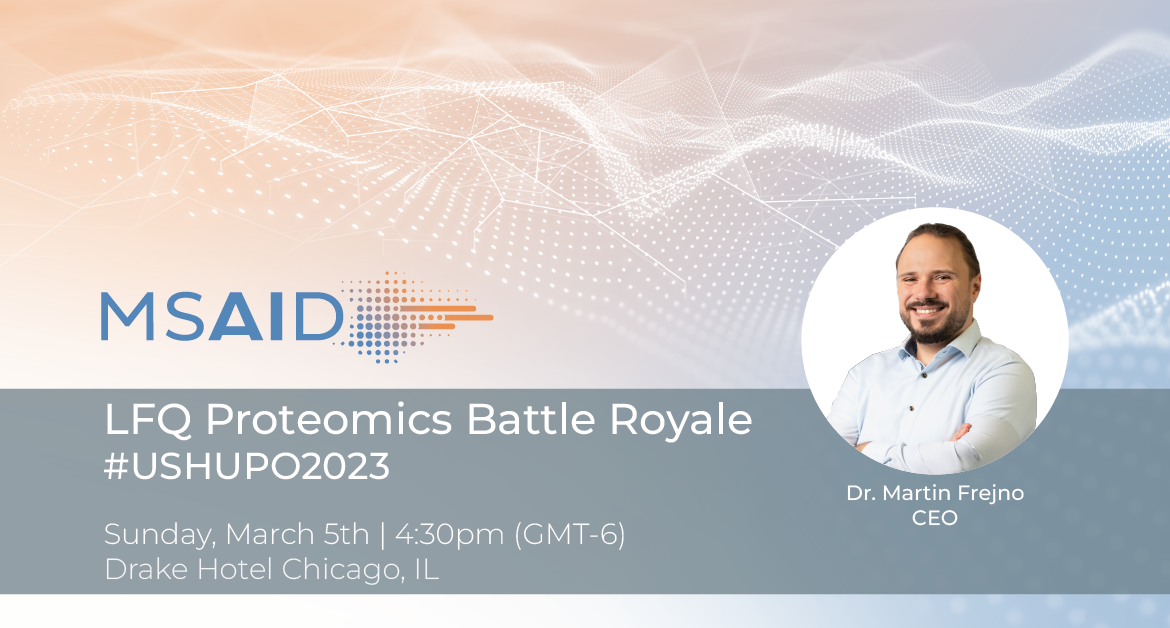 UPCOMING EVENTS
Find more information about our participation in conferences and events.