cHIMERYS
THE INTELLIGENT SEARCH ALGORITHM FOR PROTEOMICS

AN ARTIFICIAL INTELLIGENCE-DRIVEN LEAP FORWARD IN PEPTIDE IDENTIFICATION
CHIMERYS® is a powerful tool for bottom-up proteomics data analysis, specifically for single-shot complete proteome DDA datasets. The algorithm is based on advanced artificial intelligence techniques, specifically deep learning, which allows it to effectively analyze and identify peptides in complex mixtures, even in chimeric spectra. By using CHIMERYS®, researchers can expect to see a significant improvement in the identification rate and number of peptide identifications compared to traditional methods such as Sequest™ HT. The algorithm can double the identification rate and the number of peptide identifications, leading to a 1.5-fold increase in protein group identifications, higher sequence coverage, and more confident quantification.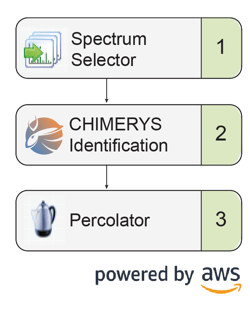 CHIMERYS aims to best explain the experimental spectrum using the fewest number of peptides. All reasonable peptides within the isolation window are scored in a concerted step and compete for experimental intensity, thereby deconvoluting the spectrum. FDR estimation is performed by Percolator.
"We have been highly impressed with CHIMERYS, which allows us to now quantify >3,000 proteins from single cells. We simply widen our isolation window in a DDA workflow and let CHIMERYS do the work of confidently assigning fragment ions to multiple peptides in each MS2 spectrum."

"We are using the groundbreaking search algorithm CHIMERYS in our cutting edge single-cell proteomics platform to accurately and sensitively identify large number of peptides and proteins from our samples. CHIMERYS excites us by surpassing conventional search engines by a factor of 2.6 in terms of ID rate."
EXPERIENCE CHIMERYS IN PROTEOME DISCOVERER SOFTWARE
DRASTIC INCREASE IN PSM, PEPTIDE, AND PROTEIN IDENTIFICATIONS



CHIMERYS is a powerful data analysis tool that allows for a drastic increase in the number of PSM (peptide-spectrum match), peptide, and protein identifications in complex samples. This is achieved through a combination of advanced algorithms and innovative technologies that enable more efficient measurements and wider isolation windows.
Top left: number of PSMs, peptide, and protein groups identified by different workflows integrated into Thermo Scientific™ Proteome Discoverer™ software for a 1 hour HeLa lysate measured on a Thermo Scientific™ Q Exactive™ HF-X Hybrid Quadrupole-Orbitrap™ mass spectrometer. Top right: peptide identification overlap. Bottom: analysis of entrapment FDR and target-decoy FDR using a ~8x non-homologous plant database across different search engines and workflows.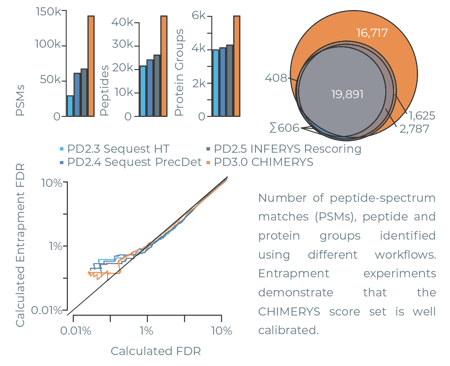 INFERYS and CHIMERYS are integrated into Proteome Discoverer software. For more information and licensing, please visit thermofisher.com/proteomediscoverer. If you would like to learn about our data analysis services, feel free to contact us!
Thermo Scientific™ Proteome Discoverer™ software, Thermo Scientific™ Orbitrap™, and Thermo Scientific™ Q Exactive™ are trademarks of Thermo Fisher Scientific, Inc. Tandem Mass Tag, TMT™, and TMTpro™ are trademarks of Proteome Sciences plc. SEQUEST is a trademark of the University of Washington.