cHIMERYS

AI-DRIVEN INTELLIGENT SEARCH ALGORITHM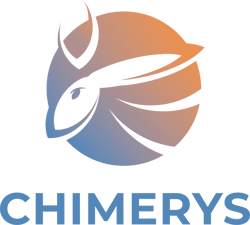 AN ARTIFICIAL INTELLIGENCE-DRIVEN LEAP FORWARD IN PEPTIDE IDENTIFICATION
CHIMERYS doubles the identification rate and the number of peptide identifications in single-shot full proteome DDA datasets, leading to 1.5-fold more protein group identifications, higher sequence coverage, and more confident quantification in comparison to Sequest™ HT.
Left panel: schematic workflow of CHIMERYS. CHIMERYS predicts peptide properties using the INFERYS 2.0 deep learning framework. After a first search, INFERYS is recalibrated and learns to adapt to the experimental data at hand. The main search utilizes predicted fragment ion intensities and retention times for the deconvolution of chimeric spectra. Finally, all identifications are passed to Percolator for score aggregation and false discovery rate (FDR) estimation. Right panel: current summary of CHIMERYS' capabilities.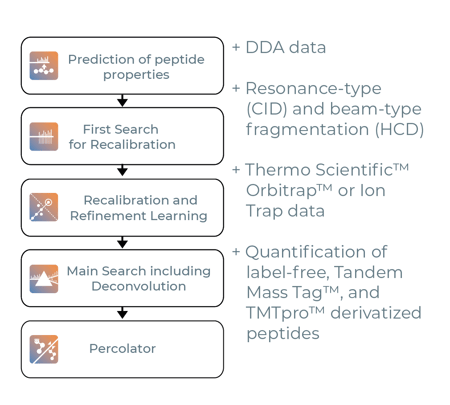 EXPERIENCE CHIMERYS IN PROTEOME DISCOVERER SOFTWARE
DRASTIC INCREASE IN PSM, PEPTIDE, AND PROTEIN IDENTIFICATIONS



CHIMERYS excels at analyzing complex samples and enables more efficient measurements, wider isolation windows, and shorter gradients to enhance proteomic throughput, and efficiency.
Top left: number of PSMs, peptide, and protein groups identified by different workflows integrated into Thermo Scientific™ Proteome Discoverer™ software for a 1 hour HeLa lysate measured on a Thermo Scientific™ Q Exactive™ HF-X Hybrid Quadrupole-Orbitrap™ mass spectrometer. Top right: peptide identification overlap. Bottom: analysis of entrapment FDR and target-decoy FDR using a ~8x non-homologous plant database across different search engines and workflows.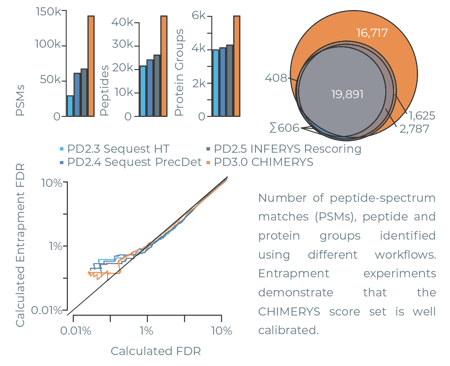 INFERYS and CHIMERYS are integrated into Proteome Discoverer software. For more information and licensing, please visit thermofisher.com/proteomediscoverer. If you would like to learn about our data analysis services, feel free to contact us!
Thermo Scientific™ Proteome Discoverer™ software, Thermo Scientific™ Orbitrap™, and Thermo Scientific™ Q Exactive™ are trademarks of Thermo Fisher Scientific, Inc.Tandem Mass Tag, TMT™, and TMTpro™ are trademarks of Proteome Sciences plc. SEQUEST is a trademark of the University of Washington.