21st Human Proteome Organization World Congress (HUPO)

December 4 – 8, 2022

At this year's HUPO, MSAID will present the intelligent search algorithm CHIMERYS and AI-driven applications for proteomics
CONNECT WITH US IN CANCUN
Visit us at booth #211
MSAID will be presenting software innovations at the 21st Human Proteome Organization World Congress (HUPO) on December 4th - 8th in Cancun. We invite you to stop by our booth #211 to talk about our products, technology, and new advances in the proteomics industry.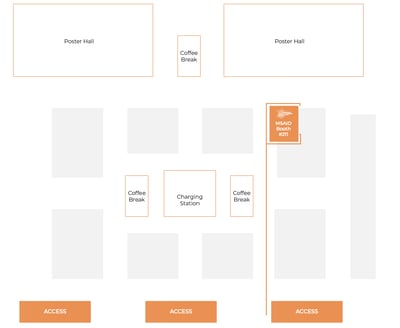 OUR POSTER PRESENTATIONS AT HUPO
A unifying, spectrum-centric approach for the analysis of peptide tandem mass spectra (PP02.91)

Mass spectrometry-based proteomics data is acquired using either data dependent (DDA), data independent (DIA) or targeted acquisition (PRM). Typically, the former is analyzed using spectrum-centric algorithms assuming that it generates non-chimeric spectra, while the latter two are analyzed in a peptide-centric fashion. Here, we introduce a spectrum-centric approach that deconvolutes spectra irrespective of isolation window size and demonstrate that it generalizes to any chimeric MS2 spectrum, unifying the analysis of DDA, DIA and PRM data.

Date: Tuesday, December 6th
Session: Poster Viewing Session with Coffee Break (Tuesday AM) – 11:45 AM - 1:00 PM
Theme: Computational Proteomics
Digging deeper into phosphoproteomes through AI-driven deconvolution of chimeric spectra (PP03.27)

Protein phosphorylation is a common post-translational modification in eukaryotes of high scientific interest since it plays an important role in dynamically regulating cellular signaling pathways in health and disease. During the past decade, affinity enrichment of phosphorylated peptides followed by mass spectrometry and computer-aided interpretation of mass spectra has become the method of choice to identify and quantify protein phosphorylation. Here, we utilize accurate predictions of peptide properties of phosphorylated peptides to improve the identification, correct localization, and accurate quantification of protein phosphorylation.

Date: Wednesday, December 7th
Session: Poster Viewing Session with Coffee Break (Wednesday AM) – 11:45 AM - 1:00 PM
Theme: Posttranslational Modifications

STAY UP TO DATE WITH OUR NEWSLETTER
Let's stay connected! Sign up to receive email updates on the latest news about our products and event participation. Register for our Newsletter for a chance to win our mascot Jack!