European Bioinformatics Community
for Mass Spectrometry
January 15 – 19, 2024 | Winterberg, Germany
MSAID WORKSHOP AT EUBIC 2024


Join us for an immersive workshop on harnessing the power of AI in bottom-up proteomics analysis using CHIMERYS. This workshop will equip participants with the skills to navigate Proteome Discoverer 3.1 and leverage CHIMERYS 2.0 for insightful data exploration.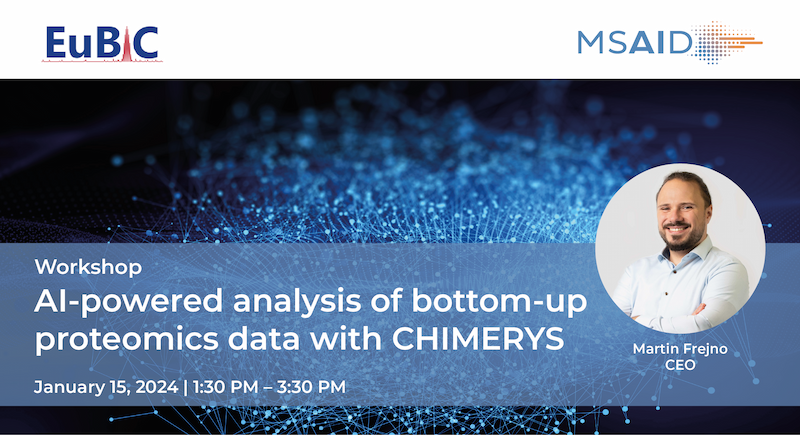 Throughout the workshop, attendees will delve into the essential steps, starting with the download and seamless installation of PD 3.1. You'll unlock the potential of CHIMERYS by activating a demo license and initiating a CHIMERYS search on a compact dataset. Hands-on guidance will expertly lead you through the process of efficiently exploring data within Proteome Discoverer.

For optimal participation, we recommend attendees bring their own laptops with Windows installed. In preparation for the session, We encourage you to:
Seize this incredible chance to enhance your skills in bottom-up proteomics analysis using cutting-edge AI-powered tools.
Join us and immerse yourself in the world of CHIMERYS and Proteome Discoverer 3.1!
UPCOMING EVENTS
Find more information about our participation in conferences and events.